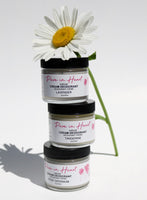 HONESTLY, WE GET IT!
We understand the importance of ingredients that are pure, natural, organic, luxurious & effective; delivering lasting results.
We recognize that using non-toxic, harmful free products are not only good for your body but also good for your heart & soul. It's important to us that we honour your beauty needs without compromising your health & well-being.
At Pure in Heart, we are committed to providing you with worry-free, safe products that work, because celebrating pure beauty is in the heart of what we do!
WE ARE LEAPING BUNNY CERTIFIED AS A CRUELTY-FREE COMPANY.
FREE FROM ALUMINUM, GLUTEN, PRESERVATIVES, PARABENS & SULPHATES, NO ARTIFICIAL FRAGRANCES, CRUELTY-FREE & VEGAN FRIENDLY
FREE FROM ALUMINUM, GLUTEN, PRESERVATIVES, PARABENS & SULPHATES, NO ARTIFICIAL FRAGRANCES, CRUELTY-FREE & VEGAN FRIENDLY
SHOP NATURAL